I've had a few e-mails with forumsmember Kroonen about the use of FHZ1000pc or FHZ1300pc versus the CUL device. And I'd like to share some of the insights he shared with me and some additional information (links) so you can make a proper device selection when you decide to implement a PC connection into your FS20 home automation.
FHZ1000pc / FHZ1300pc
The FHZ1000pc and FHZ1300pc are both products made by the german company
ELV
.
Both devices are ment to be interfaces to connect your computer to your FS20 based home automation devices.
There are two distinct differences between the devices.
FHZ1000pc
The FHZ1000pc has a USB connection and must be connected to the computer to gain it's power. It does not have any stored memory and is in simple speaking terms just a receiver and transmitter (a modem).
It can be used to control FS20 devices, FHT 80b devices and HMS100 devices.
FHZ1300pc
The FHZ1300pc comes in 2 variants:
1. FHZ1300pc, sold by
Conrad
. This is basicallly the FHZ1000pc rebranded to
Conrad
with updated hardware on the inside.
2. FHZ1300pc+WLAN, sold by both
Conrad
and
ELV
. This is a FHZ device with a CF-slot to fit a wlan module. You can buy this device in 2 options, both fitted or not fitted with the wlan module. This can be easy as the device can be externally powered and stored somewhere in your home and it does not have to be directly attached to your PC.
The difference between the FHZ1000pc and FHZ1300pc(+WLAN) is the documented option of the fhz1300pc(+WLAN) to use KS-series devices. KS-300 or KS-555 (Weather station devices).
CUL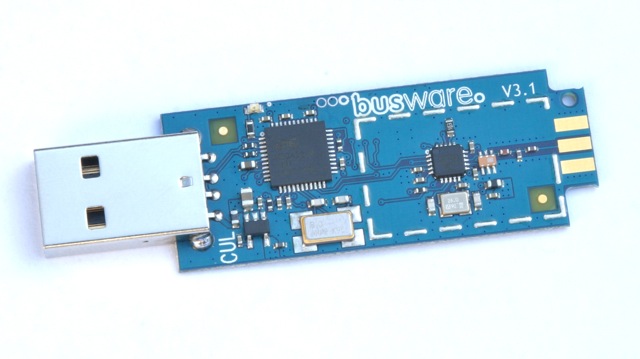 The CUL device is a product created by
www.busware.de
. This is a flexible transmitting and receiving device for the 868MHz or 433MHz band. This device can be programmed by uploading a firmware into it, and therefor allowing it to talk different protocols on the transceiving range.
Its sending and receiving ranges can be altered by attaching a different type of antenna. By default it comes supplied with a simple wire, but it can be replaced by a
1/4
(
868MHz datasheet
) or
1/2
(
868Mhz datasheet
) wave antenna.
Note: They are also available in 433MHz variants.
The CUL device can do everything the FHZ1x00pc series can. And has some extra abilities as well. The device is capable of handling EM1000 series sensors as well. It seems to support ESA2000 protocols as well, but it's current state is unstable according to the writer of FHEM. FHEM is a linux based program for controling your home from a pc.
Forumsmember Kroonen also pointed me out that he was able to get
s555th
(
datasheet
) devices working on his CUL. In his case he used FHEM as Home Automation software on his server. This is a nice thing to know as these little s555th devices only cost € 7,99 per unit at
Conrad
.
CUNO
This device is basically the same as the CUL device, except for 3 major changes and a minor one.
minor change: The device comes with a different atmel chip, bigger and more powerful
Major changes:
It has the option for an onboard microSD slot
It has a network interface card so you can hook it up somewhere in your network. Not directly attached to your server.
It has an Onewire interface and the firmware has basic onewire support
Images: (click for very high-res imagery)
- Showing the MicroSD slot on the back fo the device (this isn't shown on the Busware.de site)
- Showing the CUNO with a 1/4 antenna, a HF shield on the shipset, RJ45 connector, Mini USB and the Onewire connector in black.
- Showing the CUNO partially assembled in it's gray cover. Top cover can be seen on the far left.
A size comparison between the FHZ1000pc, CUNO and a SD card for size reference.
Compatibility matrix
Notes:
FS20, HMS, FHT, KS, WS, EM, ESA;

What are you talking about?
These are different protocols and different device series. Some more information about the device specifics, including pictures and datasheets will follow in a separate forums posting.